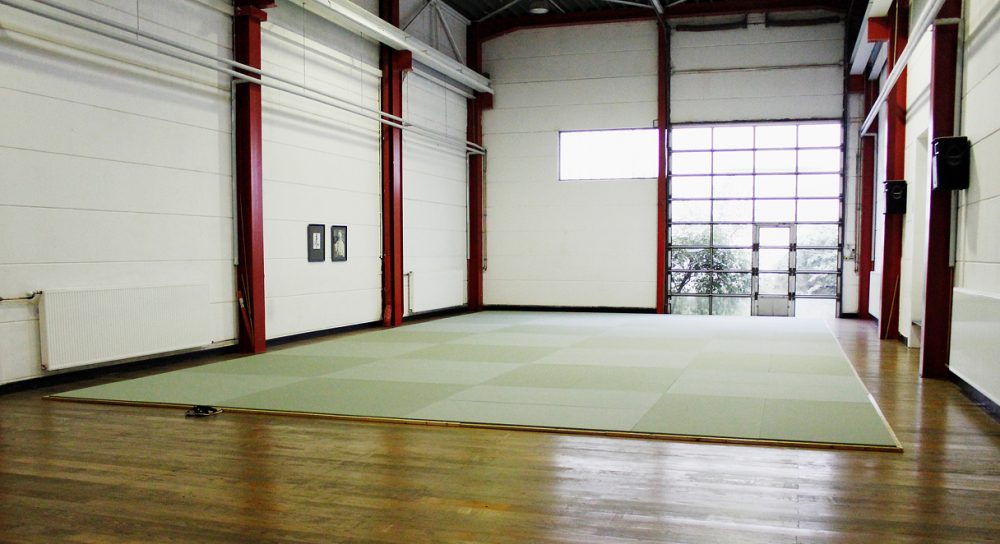 She has done a very good job, but after decades of service, the mat in the Aikido Schule Hamburg can enjoy a quiet retirement, while a younger training foundation takes over.
What has a larger surface than an elephant, is as flat as three large snails and has nothing to do with animals whatsoever? Correct, the mat on which we practice Aikido every day. While the first Aikido-Ka in the 60ies had to roll and fall onto a normal flooring, mostly stone, Dojos nowadays use tatami mats to make the training a little softer. Such a mat has to take quite a beating over the years, in particular, if several groups run, knock, fall and roll onto it every day, as is the case in the Aikido Schule Hamburg.
Thanks to the generous support of our sponsor Studieren in Anderswo the mats in our Dojo have now been replaced. Unlike normal sport mats, the material of Aikido mats is ideal for the Aikido training. They need to absorb the quick contact between people and the ground, while at the same time be hard enough to avoid knee injuries. The surface also needs to provide enogh grip for quick steps.
We are extremely happy about the new surface and enjoy the Aikido training in Hamburg even a little bit more now.

Deutsch